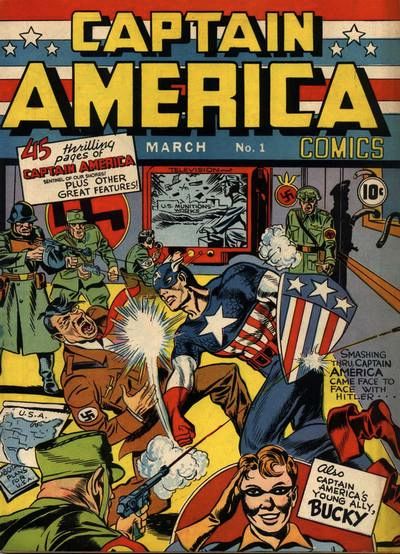 February 28, 1941
Captain America Comics #1
Key Issue

Origin of Captain America and Bucky by S&K; First appearance of Captain America and Bucky; Introduction of "Captain America Sentinels of Liberty Club"

Artist

Jack Kirby

Joe Simon

Joe Simon Jack Kirby

Typeset

Script Writer

Joe Simon

Jack Kirby

Ed Herron

Publication Date

Feb 28, 1941

About

CAPTAIN AMERICA COMICS published by monthly Timely Publications, Meriden, Conn. Entered as second class matter at the Post Office, Meriden, Conn. Entire contents copyright 1940 by Timely Publications, 330 W. 42nd St., New York, N. Y. Vol. 2, No. 1, March 1941 issue Yearly subscription $1.00. Printed in the U.S.A.
Additional Issues
Related issues of Captain America Comics #1
From the Blog
Recent Comic News and Discussions