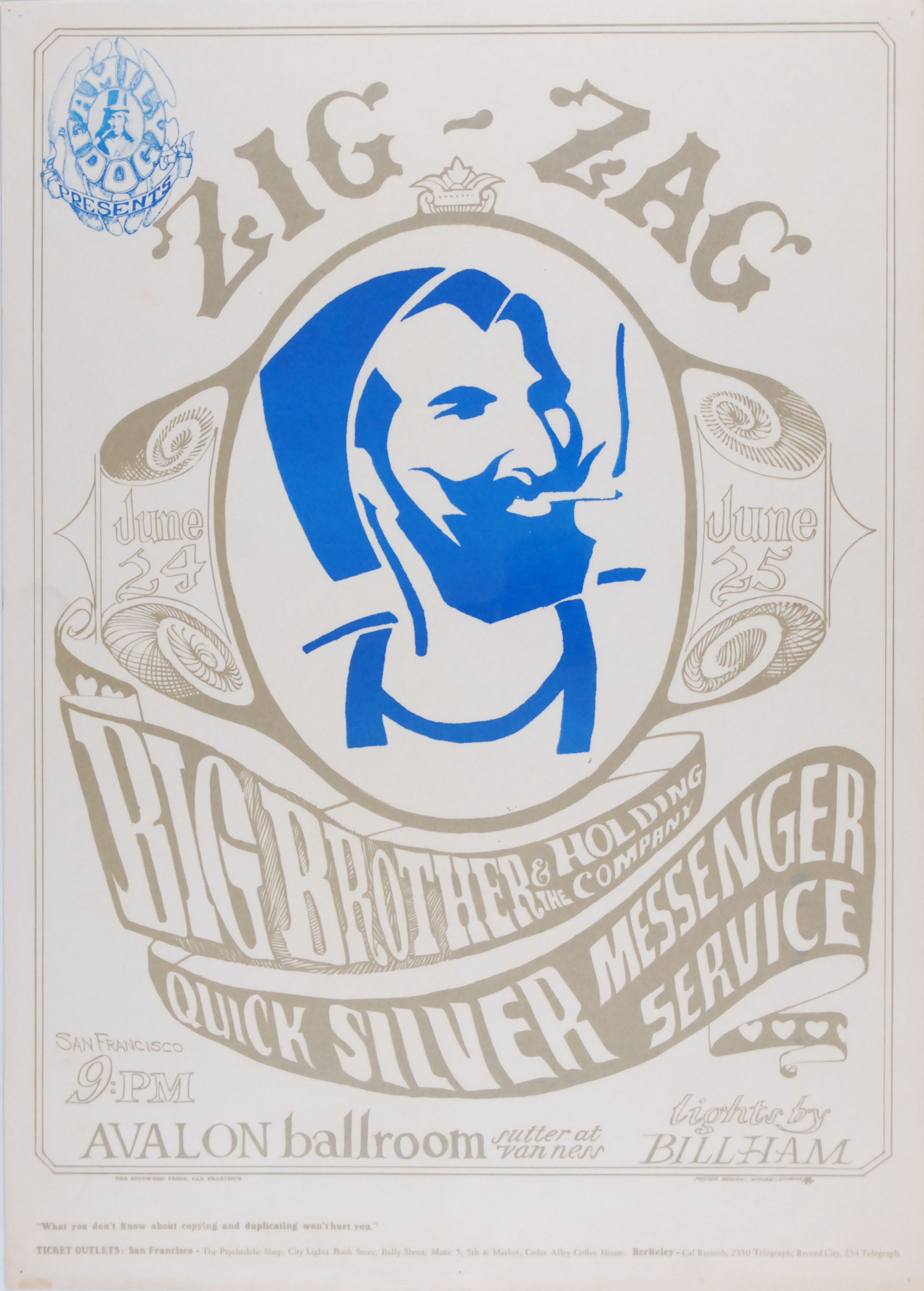 The Family Dog
FD-14-OP-1
Concert Date

Jun 24, 1966

Performer

Big Brother & The Holding Company

Quicksilver Messenger Service

Artist

Stanley Mouse

Alton Kelley

About

This legendary piece was the first in The Family Dog series that was designed by the duo of Stanley Mouse and Alton Kelley. It is also one of the most sought out posters in the series. Concerned about infringement issues related to their use of the Zig-Zag rolling paper logo, Mouse and Kelley included the statement "what you don't know about copying and duplicating won't hurt you" at the bottom of the poster. However, Zig-Zag enjoyed the free advertising they got from the poster and never took action.
Graded Population
| CGC Title | Venue | Date |
| --- | --- | --- |
| FD-14-OP-1: Zig-Zag Man | Avalon Ballroom | June 24 & 25, 1966 |
All Grades

16

Population Share

Universal

13

81.3% of pop

Restored

3

18.8% of pop

Signature

0

0% of pop

Conserved

0

0% of pop

9.6

2

top 15.4%

0

--

0

--

0

--

9.4

2

top 30.8%

0

--

0

--

0

--

8.5

0

--

1

top 33.3%

0

--

0

--

8.0

2

top 46.2%

1

top 66.7%

0

--

0

--

7.5

1

top 53.8%

1

top 100%

0

--

0

--

7.0

1

top 61.5%

0

--

0

--

0

--

6.5

1

top 69.2%

0

--

0

--

0

--

6.0

2

top 84.6%

0

--

0

--

0

--

5.5

1

top 92.3%

0

--

0

--

0

--

5.0

1

top 100%

0

--

0

--

0

--
Known Variants
10 Variations of FD-14-OP-1
From
Performer
Big Brother & the Holding Company
Quicksilver Messenger Service
Venue
Artist
Stanley Mouse
Alton Kelley
Gallery
Promoter
Poster Type
From the Blog
Recent Concert Poster News and Discussions