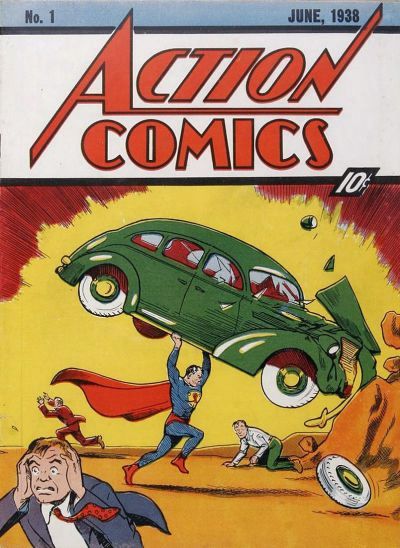 June 10, 1938
Action Comics #1
Key Issue

First appearance of Superman; First appearance of Lois Lane; First appearance of Martha Kent; First appearance of Johnathan Kent; Origin of Superman

Artist

Joe Shuster

Homer Fleming

Fred Guardineer

Russell Cole

Sven Elven

Will Ely

Bernard Baily

Sheldon Moldoff

Author

Jerry Siegel

Homer Fleming

Fred Guardineer

Captain Frank Thomas

Russell Cole

Gardner F. Fox

Ken Fitch

Publication Date

Jun 10, 1938

About

Indicia: ACTION COMICS. published monthly by Detective Comics, Inc., 480 Lexington Ave., New York, N. Y. Second class entry pending at Post Office, New York, N. Y. under the Act of March 3, 1879. Subscription rates: 12 issues by mail in the United States, its possessions and Mexico, South America and Spain, $1.50; elsewhere $2.60. The Publisher accepts no responsibility for unsolicited material. Entire contents copyright 1938 by Detective Comics, Inc. In the documentation for the Siegel lawsuit against Warner Bros (CASE NO. CV-04-8400-SGL (RZx)) published on March 26, 2008, the on sale date for this issue is listed as being April 18, 1938 (information added by Allen Ross June 2008).
Additional Issues
Related issues of Action Comics #1
Known Variants
3 Variations of Action Comics #1
From the Blog
Recent Comic News and Discussions