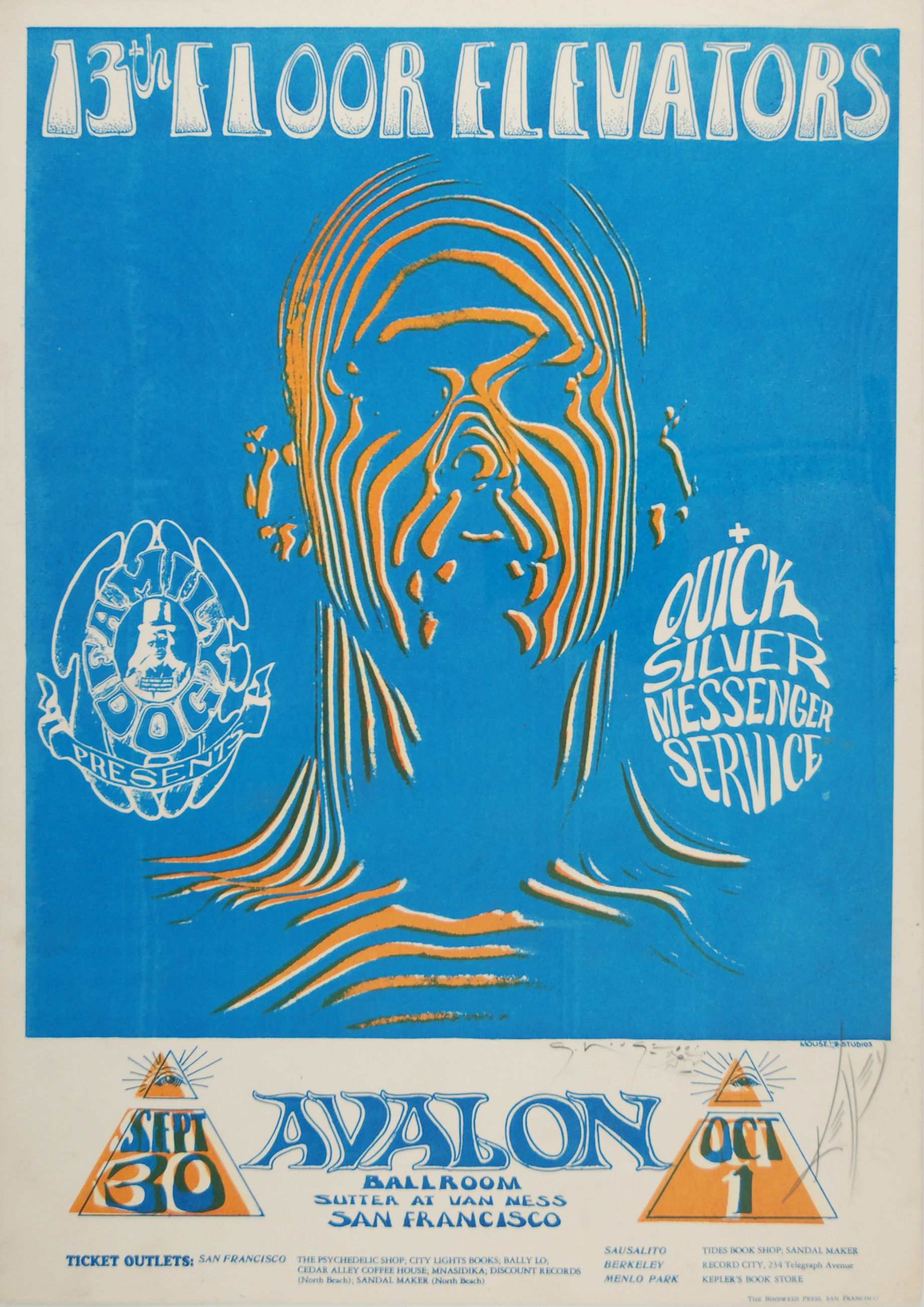 The Family Dog
FD-28-OP-1
Concert Date

Sep 30, 1966

Performer

13th Floor Elevators

Quicksilver Messenger Service

Artist

Alton Kelley

Stanley Mouse

About

This classic image was taken from a photo originally featured on the cover of Life Magazine in 1954, which was created with a light beam used by the U.S. military to make a facial contour map for flight helmets. Mouse and Kelley added the color. This was also the first poster which had a corresponding handbill that was sent out to individuals on the Family Dog's mailing list.
Graded Population
| CGC Title | Venue | Date |
| --- | --- | --- |
| FD-28-OP-1: Zebra Man | Avalon Ballroom | September 30 & October 1, 1966 |
All Grades

55

Population Share

Universal

47

85.5% of pop

Restored

2

3.6% of pop

Signature

6

10.9% of pop

Conserved

0

0% of pop

9.9

1

top 2.1%

0

--

0

--

0

--

9.8

5

top 12.8%

0

--

4

top 66.7%

0

--

9.6

5

top 23.4%

0

--

1

top 83.3%

0

--

9.4

5

top 34%

0

--

1

top 100%

0

--

9.2

7

top 48.9%

0

--

0

--

0

--

9.0

4

top 57.4%

0

--

0

--

0

--

8.5

1

top 59.6%

0

--

0

--

0

--

8.0

4

top 68.1%

1

top 50%

0

--

0

--

7.5

3

top 74.5%

0

--

0

--

0

--

7.0

7

top 89.4%

1

top 100%

0

--

0

--

6.5

3

top 95.7%

0

--

0

--

0

--

6.0

1

top 97.9%

0

--

0

--

0

--

5.0

1

top 100%

0

--

0

--

0

--
Known Variants
9 Variations of FD-28-OP-1
Additional Posters
Posters related to FD-28-OP-1
From the Blog
Recent Concert Poster News and Discussions